Ask SepiSolar Anything – Battery Technology Edition – Live From Intersolar!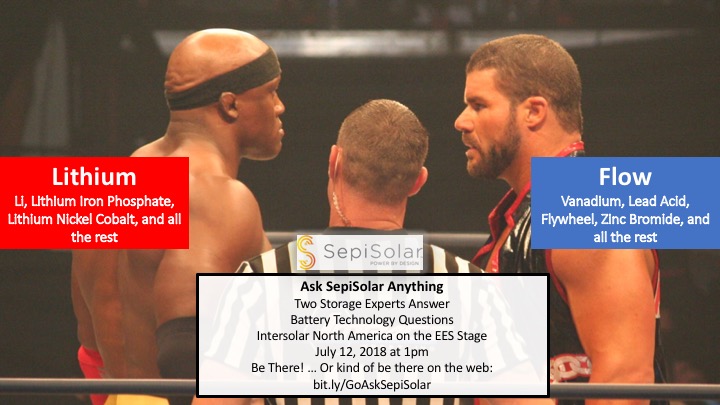 If you're not already installing solar+energy storage for your customers, you soon will be. But which energy storage technology is best? What's the price per kWh? How long will the battery technology last? Are Lithium-based batteries really the best? How expensive are flow batteries? How about flywheels?
You can ask any of these questions–or anything else–and get an answer from SepiSolar's CEO and storage expert, Josh Weiner. Also answering your questions will be our special battery technology guest, Matt Harper, Chief Product Officer of Avalon Battery.
Before Avalon, Matt was a former VP of Products and Marketing at Prudent Energy and has 9 years developing energy storage technologies. He holds 7 US patents.
In addition to being CEO of SepiSolar, Josh has been designing solar+storage systems since 2004 and was one of the early co-founders of Green Charge Networks (recently acquired by Engie.). He now consults with developers, as well as various storage manufacturers.
Over the years, Josh and Matt have separately studied many different battery technologies, and they're both excited to be sharing their objective knowledge and opinions, answering any of your battery technology questions LIVE at the EES stage at Intersolar or on our usual web platform at the same time.
Join us for Ask SepiSolar Anything – Live from Intersolar!
Topic: Ask SepiSolar Anything about energy storage technologies. Josh will be answering questions with our special guest, Matt Harper, Chief Product Officer of Avalon Battery.
When: Thursday, July 12, at 1 pm Pacific.
Where: Sign up to get a link to watch via the web or be in the audience at Intersolar. Get all the info and a reminder here:

P.S. If you or your company are on Twitter and want to meet other solar people behind the solar brands on Twitter, RSVP for the 8th Annual Intersolar Tweetup, which @SepiSolar is sponsoring. Space is limited so get a ticket before Intersolar!