An Open Memo to Fellow Solar Designers and Engineers: Together, We Must Lead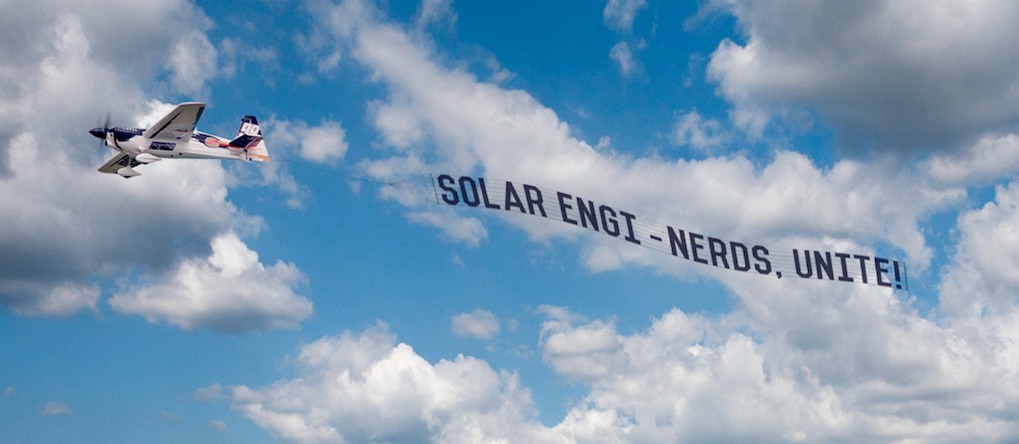 My fellow solar designers and engineers, make no mistake: We have been and will continue to be an important part of the world's transition from fossil-fuel-based energy to a world that will be powered by interconnected and networked solar, wind, storage and integrated micro-grids. For those of you who don't know what you're getting into, welcome to the renewable revolution and hold on; it'll be a bumpy ride! For those of you who already know the solar coaster, congratulations and thanks for your contributions! But … our contributions are far from over.
Energy analysts say that our full transition is inevitable, and that clean energy destiny can be accelerated by innovation, efficiency and improved designs, or just as easily decelerated by flawed, fossil-fuel biased or outdated policies, soft costs and careless designs that lead to bad publicity and damaged customers.
My fellow technical subject matter experts, you and I both know that such a transition is impossible without the minds and efforts of professionals like us doing our part. The sort of work we do is based on sound and well-understood scientific principles of math, engineering and technology.
Having studied these materials for quite some time, we know the power they can bring, as well as our responsibility to accelerate them—we are in a unique position to leverage these principles and the tools our industry has developed in order to make them ubiquitous and accessible to all through more streamlined and easy-to-use products and services.
Newton's first law of physics states: "An object at rest stays at rest and an object in motion stays in motion with the same speed and in the same direction unless acted upon by an unbalanced force." Similarly, I would say that the U.S. is transitioning toward 100% renewable energy at the same speed and direction that, while positive in direction, is not moving at a speed that will mitigate the worst effects of climate change, let alone pollution and its health effects.
Consequently, we need an unbalanced force to accelerate that transition, and my fellow solar designers and engineers, that unbalanced force can be you and me. We have the technical ability to accelerate solar + storage adoption and reduce its costs through better and more efficient designs, advocating for better policies, and combining our engineering thoughts. The more we can share best practices, surface the sometimes-nuanced and subtle policy roadblocks that slow our work, and educate policymakers and AHJs throughout the U.S. who are just beginning to see an interest in solar and storage, the faster solar and storage will be deployed and make a difference.
In short, engineers and designers must do our part and lead with our ideas and technical abilities, as well as contribute ideas to changing codes and standards. (Wouldn't it be nice to one day actually have a truly national solar code?)
It's for this reason we're rededicating this SepiSolar blog to sharing solar and storage design and engineering best practices. We also know that this must be a collective effort, so we are opening our blog forum to any solar designer or engineer who also wants to share best practices and thought leadership toward our energy transition.
To contribute your thoughts, please email your posts to blogs@sepisolar.com. As long as it's useful information (under 1000 words plus any related images, please) that helps to forward thought leadership on design, engineering or permitting for solar, energy storage or the grid, we'd love to publish it here, as well as share it on our social networks and email list. You'll be fully credited—regardless of which company you happen to work for. From our perspective, solar designers and engineers are not competing against each other, we are competing against fossil fuels, dirty energy, apathy and current policies that stagnate our industry's growth.
Thank you in advance for contributing, and we look forward to more solar design and engineering leadership.
Josh Weiner is CEO and Founder of SepiSolar