Charging Infrastructure is Slowing eVTOL Progress. Here's How We Can Move Forward.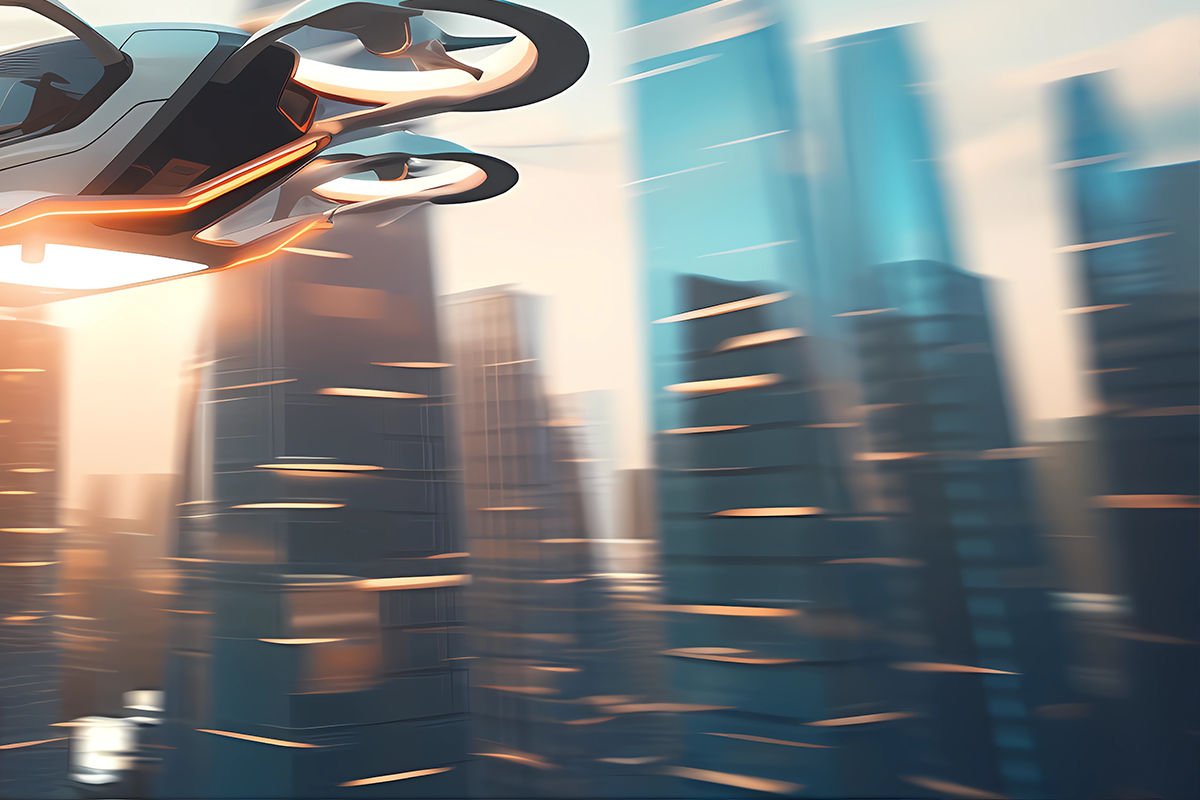 When you picture the distant future, do flying cars come to mind? If so, floating your car above rush hour traffic might be closer than you realize.
This past June, Alef Aeronautics broke major ground for the future of EV transportation. The company made history and solidified itself as the first to get permission from the Federal Aviation Administration (FAA) to test its flying electric car, both on land and in air. This leap forward puts us one step closer to flying cars in real life.
With cars now being tested in the sky, the bottleneck for commercializing these cars, otherwise known as Electric Vertical Take-Off and Landing (eVTOL) vehicles, is no longer the cars themselves – it's the charging infrastructure. Before we can soar through cities, we need to make sure eVTOLs can stay up and running.
---
---
Charging Challenges
In a nutshell, we can think of these eVTOLs as EVs on steroids. EVTOLs have larger batteries than regular EVs, but despite their larger batteries, they need to be charged more quickly and more frequently. For context, a typical eVTOL can only travel between 100 and 150 miles on a single charge. That's about the same distance as Los Angeles to Palm Springs, or from Fremont to Sacramento. This means that to make these flights affordable, we need to fly them often, and we need to fly them efficiently.
To give you a bit more detail, every eVTOL with a typical 300 kWh battery pack needs a 1.5 MW charger just to recharge in 15 minutes. That's a lot of demand charges, and yes battery project developers, we're looking at you. We need you now more than ever.
Even with all of this considered, the amount of power needed to charge an eVTOL opens its own set of issues. Utility companies are already struggling to meet the charging demand of standard EVs, so accommodating eVTOLs will only be more daunting. While some eVTOL companies plan to handle this by calling the utility companies, paying a high rate, and hoping for the best, it's not a feasible, long-term solution.
---
---
What's Next?
While a practical way around eVTOL battery range and power challenges doesn't exist quite yet, eVTOLs can become a commercial possibility if we streamline the charging process. Because eVTOLs need such frequent charging, the path forward is to charge them as quickly and painlessly as possible.
Creating an ideal charging experience will require a combination of batteries, utility grids, and renewable sources. In addition, eVTOLs will require microgrid controls that bridge the gap between their charging needs and the utility companies. This will provide an extra layer of resiliency in case the utility grid goes dark.
We know this works, because we've been addressing similar infrastructure problems since our founding in 2010.
One key highlight was our work with a major rental car company. The company wanted to electrify its vehicle fleet at a large east coast airport, but the high cost of energy (kWh), demand (kW), and utility grid capacity stood in its way.
Taking this into consideration, we provided a battery system that mitigated demand charges, as well as a PV system that reduced energy charges and recharged the battery system. By doing this, we enabled the rental car company to electrify its fleet in a way that was cost effective and sustainable.
Because of how we approached this situation, the company didn't need to pay its regional utility company to upgrade its distribution feeders, nor did it have to pay for high energy and demand costs related to its EV charging systems.
We've been solving EV charging challenges for the last 13 years, and we're well positioned to break barriers for eVTOLs in 2023 and beyond.
---
---
The Future of eVTOLs
Transportation and energy infrastructure have already been converging to provide back-up power, vehicle-to-grid services and vehicle charging for regular EVs. We see this with home garages that are taking the place of gas stations, but eVTOLs have their own considerations. Not only are they too big for residential, but the FAA will need to regulate them to ensure they have the proper aviation infrastructure and certifications.
SepiSolar has already done the work of researching the FAA requirements and codes to design and engineer heliports and landing pads for the eVTOLs of the future. We solved the problems of EV charging when demand charge managing batteries didn't exist, and solar integration was at risk due to utility curtailment issues.
With eVTOLs on the horizon, SepiSolar is providing value-added engineering services to help bridge the gaps that currently exist between eVTOLs, renewables, energy storage, and the utility grid. Take advantage of our expertise, and let us support your skyport and vertiport projects.
---