Your path to low-risk C&I solar starts here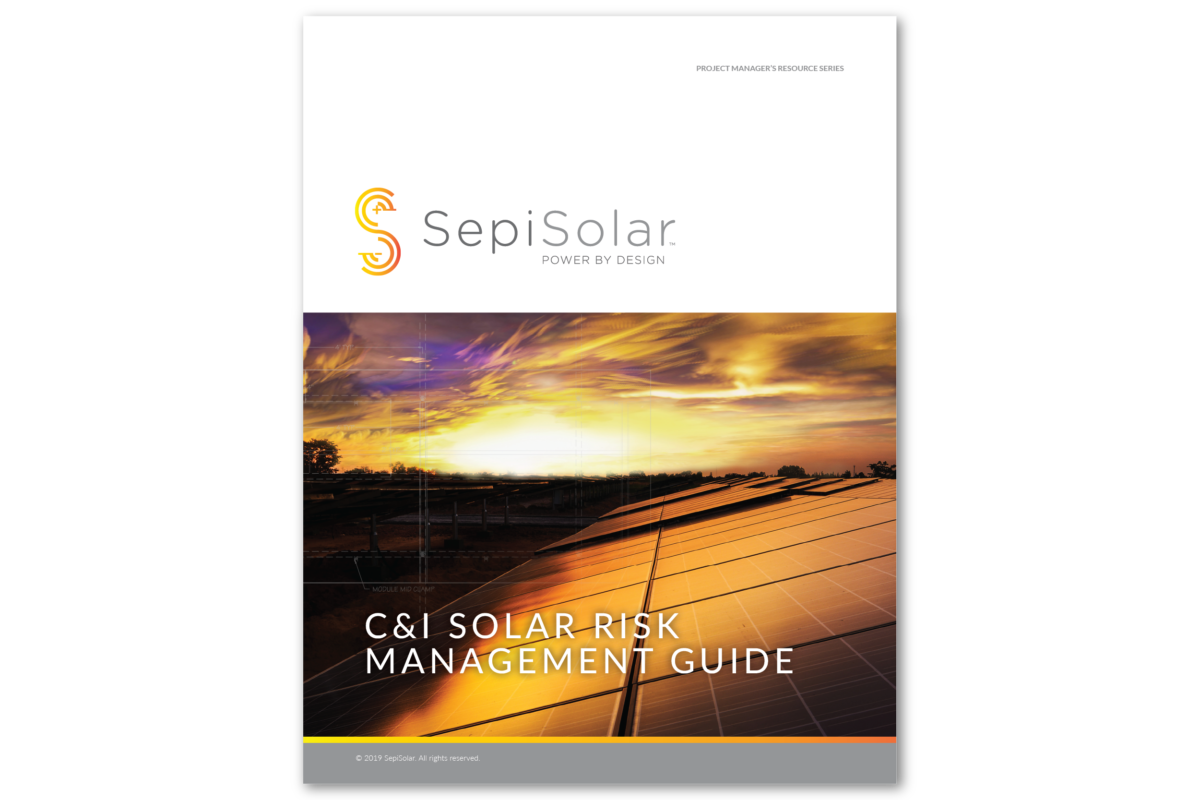 Every once in a while, we get a familiar request — a contractor asks to "fast track" a new solar project. We say: Be careful what you wish for. You might just get it.
Our response wasn't always this way. At one point, customers wouldn't even have to ask to speed up the design and engineering process. They wanted deliverables quickly — yesterday — and at low cost. We delivered. Sort of.
Soon, we learned that while we could deliver on the front-end, we had too little control over the back-end. We were working too quickly. Customer requests for design changes would come weeks, sometimes months, after delivery of the original plan set. This increased project costs and risk in the long run.
At SepiSolar, we have introduced structure, definition, and organization to the project design and engineering process with discrete handoffs, milestones, stages, and defined activities. We control project costs, timeline, scope, quality, liability, customer success and safety, reducing cost and risk to the project.
We used to try explaining to customers one-by-one why no engineer has the power to expedite projects.
Each project dictates its own timeline according to the project data at hand, the complexity of the project, climate, and other variables that we cannot control. If a commercial property has no as-built plans available, someone needs to conduct a site survey and perform discovery on key aspects of the facility. There are faster ways and slower ways to perform discovery, but you cannot fast-track your way through it.
In other words, the job of the engineer is not to tell the project how much time it has. Rather, we listen and then help the EPC get through it.
Since we have these conversations with some frequency, we decided to take some of our core insights and share them in the C&I Solar Risk Management Guide.
---
What's in the risk management guide?
The C&I Solar Risk Management Guide covers the key milestones from starting a project plan set to matching the as-built conditions of a completed project. Milestones include:
Project kickoff
Preliminary analysis
50% design
90% design
Permit plan set
Revised permit plan set
As-builts
Managing risk means having a clear and complete idea of the scope of work up front and catching all components and elements of design and engineering that need to be specified, budgeted for, and tracked. When changes occur, it is usually due to lack of specificity in the original scope of work, or something that nobody saw coming. Surprises increase cost. We don't like surprises in construction.
By thoroughly defining the scope of work up front and identifying potential surprises that could come back to bite us, we proceed with projects in stages, never getting too far ahead of ourselves without all the necessary information.
Subway, the fast-food chain, recognizes the value of risk management. At the lunch counter, the selection of bread drives the development of the meal. You might ask for the pit-smoked brisket and then wonder why your server holds still, waiting for you to choose between six-inch and foot-long subs made of Italian bread, whole wheat, or something else. You're hungry. Can't they go a little faster?
If the server rushed ahead with the wrong bread, there would be an even longer delay as he builds your sandwich a second time. Bad move. Now you're really getting hangry. Subway's process won't set any sandwich-making speed records. But it's dependable, time and time again.
---
---
How to use the C&I Solar Risk Management Guide
Our goal with the solar risk management guide is twofold. First, we want to point out how engineering and design can have a big impact on project success, even though it accounts for a small share of project costs. Second, we want project and operations managers to know what you can expect from a structured, highly organized project design process.
Have a look at the guide. Download a copy of the project milestones, and share it with your team.
How does your project design process compare to ours? Are we following similar paths? Where are the differences? If you have questions or comments about the C&I Solar Risk Management Guide, join the conversation with us on LinkedIn.
---