Ask SepiSolar Anything with Jigar Shah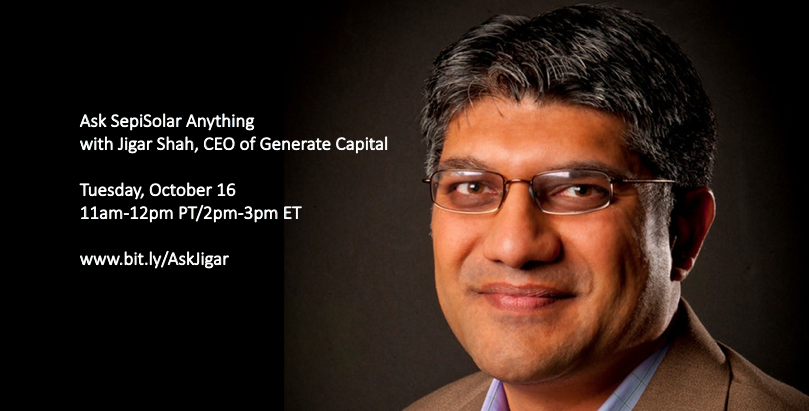 Join us for the next Ask SepiSolar Anything with Jigar Shah, co-founder of Generate Capital and co-host of Greentech Media's Energy Gang podcast. 
As with all Ask SepiSolar Anything's, Jigar will join us live via a web meeting and answer any question you might have about solar finance, solar business models, solar entrepreneurship, pitching VCs, energy storage, or … anything.
If you're not familiar with his solar and clean energy advocacy career, Jigar Shah is well known for pioneering the first solar power purchase agreement (PPA) when he co-founded SunEdison in 2003. After SunEdison was acquired in 2008, Jigar co-founded Generate Capital, a specialty finance company that partners with project developers and technology manufacturers to finance clean energy, water, food, and other critical resources. He's also the author of Creating Climate Wealth: Unlocking the Impact Economy and was the first CEO of the Rocky Mountain Institute's Carbon War Room, co-founded by Sir Richard Branson.
SepiSolar's CEO Josh Weiner will start off the questioning and then hand over the web microphone to you! To ask Jigar Shah your questions, mark your calendar and register here for the webinar link info.
When: Tuesday, October 16, 2018, 11am-12pm Pacific, 2pm-3pm ET
Where: Online. Please register to get the web link and reminders: